The great Winston Churchill once said, "We make a living by what we get, but we make a LIFE by what we GIVE.
We devote our resources and time to events and charities that benefit our community, recognizing that we are all able to do good things with positive results.  We believe in serving our communities, and have put our beliefs into action, devoting a special emphasis to our children.
In the past few years, we have given cars to Enterprise High, Red Bluff High, Anderson High, West Valley High, Foothill High, Shasta High School, Shasta College, Central Valley High, and Redding Soccer Park.  These vehicles are donated with no strings attached, and are raffled through ticket sales to earn money for school athletic programs.
It gives us great joy to know that our efforts are benefiting people; the smiles we see on their faces make it all worthwhile.
---
Here is a list of just some of the companies, organizations, and events we have either donated time or financial support to, or have sponsored in the past:


• 4H 
• FFA
• Simpson University Baseball Program
• Shasta College Baseball Program
• NorCal Think Pink
• Make A Wish
• PATH
• City of Redding Energy Fair
• Turtle Bay - "Get Animated" Installation
• Nor-Cal Little League 
• Anderson Mosquito Serenade Summer Concert Series
• July 3rd Anderson Fireworks
• Shingletown Library
• Shingletown Fire Hall- Family Fun Day 
• Manton Apple Festival
• Special Olympics 
• 2016 "Thank You Firefighters" Campaign
• Marquee Sponsor Red Hawk Ride - Simpson College
• Weaverville 24
• Celebrate 10 Sundial Bridge
• Turtle Bay Butterfly Heroes
• A Touch of Color
• Dog Pound Poker Run
• St Joseph's School - Wildlife Habitat
• Enterprise High - Loves Learning
250 science books donated
• Mt. Shasta Ski Park
• Shingletown Medical Center
• Millville Fire Department
• Relay For Life
• Meals on Wheels
• Casa Super Heroes
• Camp McCumber
• CHP- 11-99
• North State Volleyball Academy
• Leukemia Lymphoma Society
• Jefferson Public Radio
• Redding Chamber of Commerce
• KKRN Radio
• KIXE PBS - Annual Breast Cancer Awareness Sponsor
• Veterans Parade - Mt. Shasta
• CA State Old Time Fiddlers
• Mountain Runners - Mt. Shasta
• Pacheco School
• Chester High School
April 25, 2019
FOOTHILL HIGH'S RAFFLE DRAWING WINNERS - TROY & JESSICA SISNEROS
As you may recall, back in October 2018 Redding Kia donated with no strings attached, a brand new 2019 Kia Optima for Foothill High School's KOOL APRIL DAY raffle that was held on Thursday, April 25, 2019 at 12:00 noon, at the Foothill High campus.
After 6 months of fundraising and ticket sales, the winners of the 2019 Kia Optima are TROY & JESSICA SISNEROS!
All of us at Redding Kia would like to extend our CONGRATULATIONS to Troy & Jessica on winning the raffle drawing! Enjoy your new car!
#reddingkia #foothilhighschool #koolaprildays #kiaoptima #reddingcalifornia #shastacounty #california #carswithoutlimits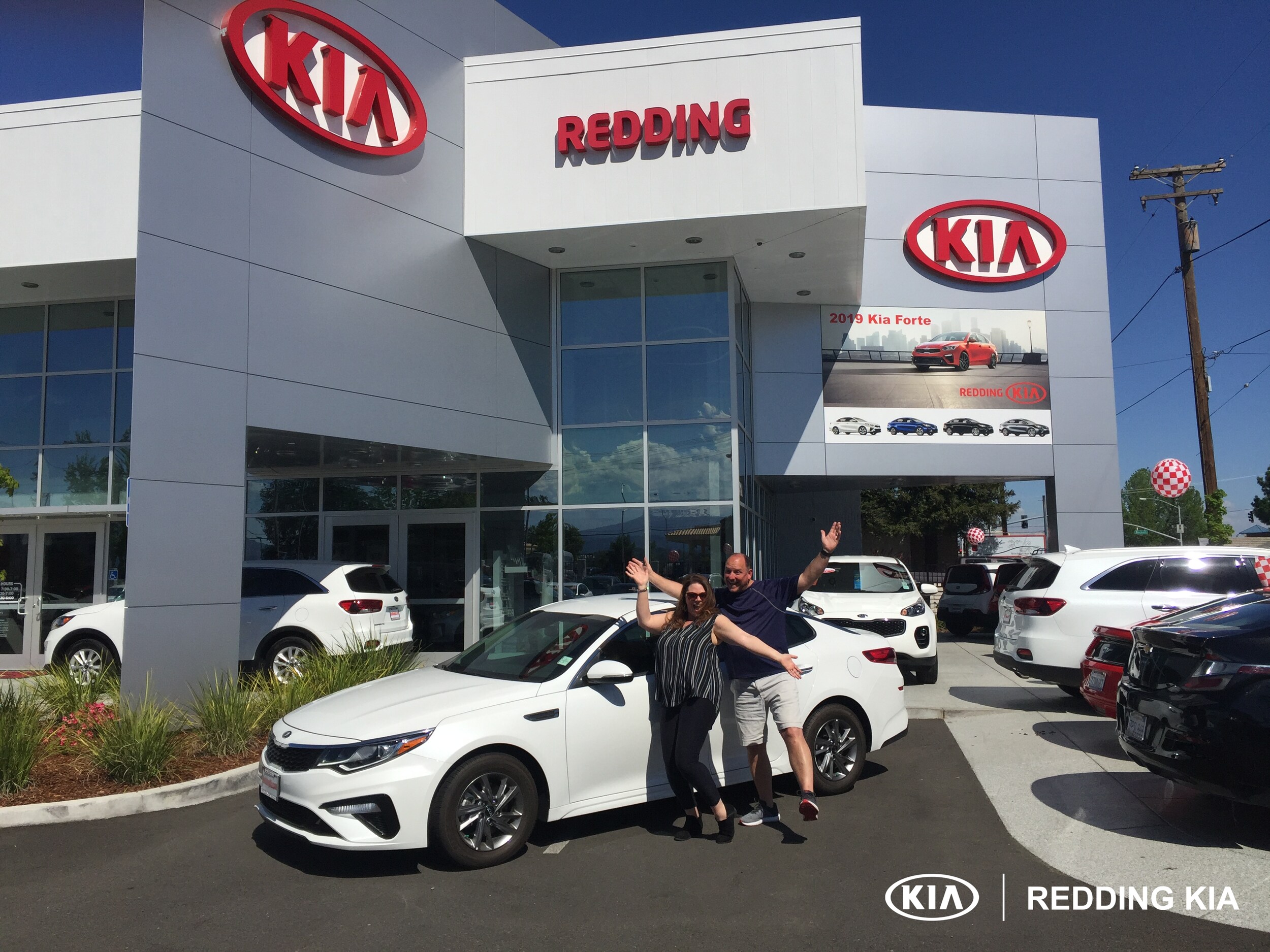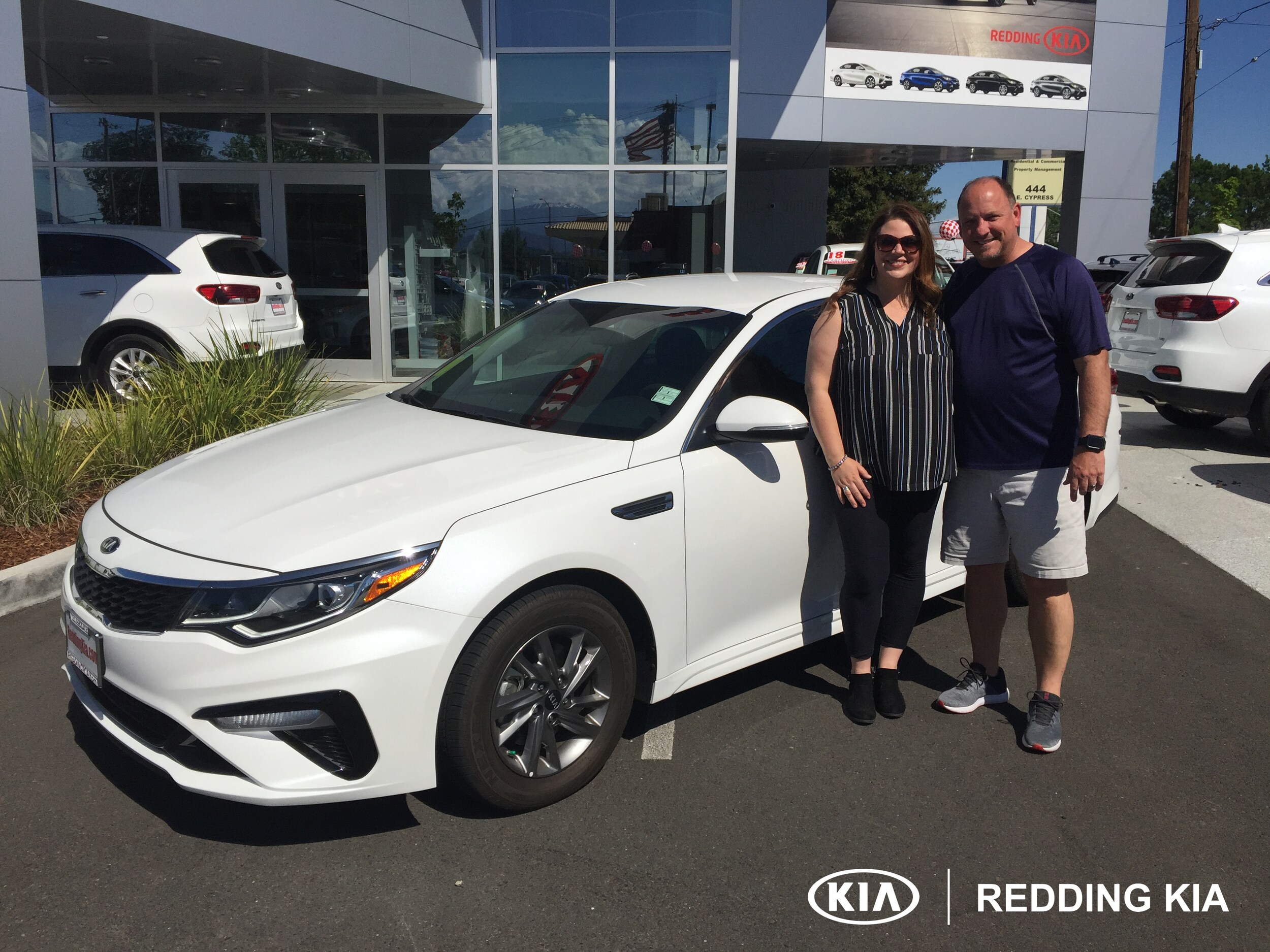 February 20, 2019
REDDING KIA'S CUSTOMER APPRECIATION EVENT
Redding Kia showed the appreciation and love to its customers this evening by treating them to a catered dinner that had free prize giveaways to boot! Our CUSTOMER APPRECIATION EVENTS are always a big hit!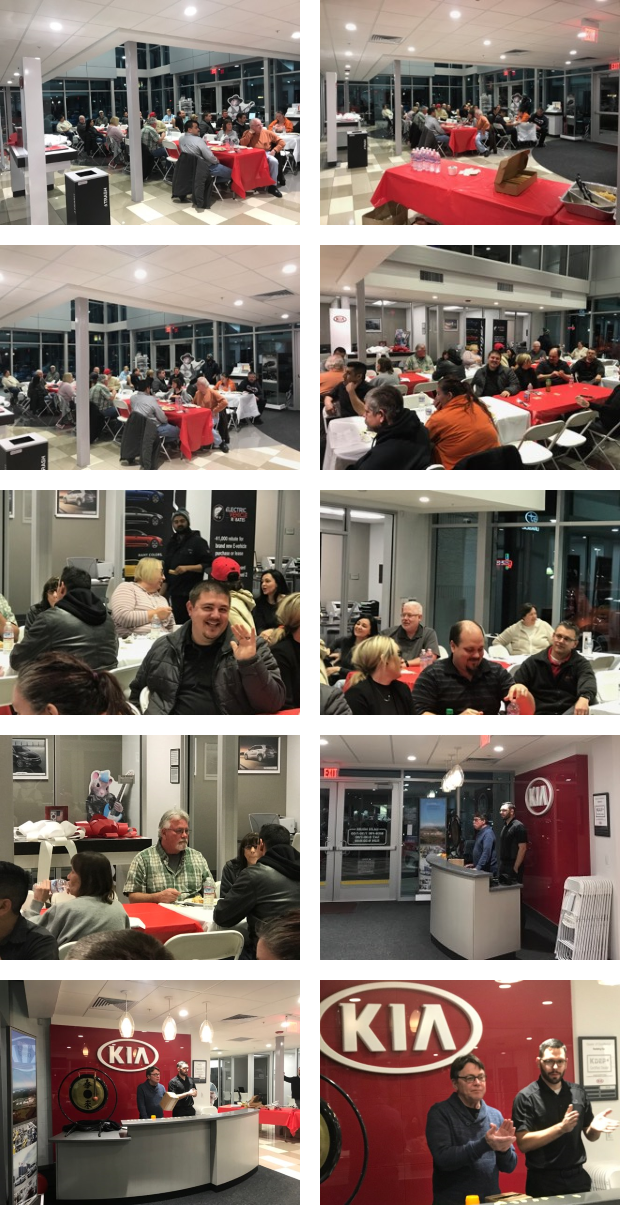 October 29, 2018
WIN A 2019 KIA OPTIMA FOR ONLY $10.00!
Redding Kia has donated with no strings attached, a brand new 2019 Kia Optima for Foothill High School's COOL APRIL DAY raffle on Thursday, April 25, 2019 at 12:00 noon, held at the Foothill High campus.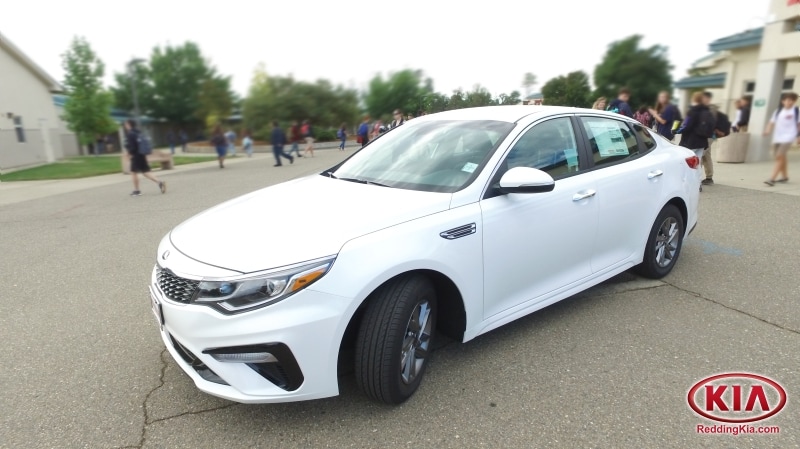 The money raised from raffle ticket sales goes 100% to benefit Foothill High's Athletic Programs.
PURCHASE TICKETS NOW FOR ONLY $10.00 EACH:
Foothill High School
9733 Deschutes Road
Palo Cedro, CA 96073
(530) 547-1700


Plus, students from Foothill High are also selling these tickets as well. 


You could win a brand new 2019 Kia Optima for only $10.00... and the funds raised from raffle ticket purchases go towards a great cause! What could be better than that?

*IMAGE SHOWN IS NOT A VALID TICKET PURCHASE.
#reddingkia #kiaoptima #foothillhighschool #palocedro #athleticprogramsupport
2019 KIA OPTIMA RAFFLE TERMS AND CONDITIONS: Proceeds benefit Foothill High School Athletics. Color of Vehicle and options may vary from actual prize. No age limit on winner, but must be at least 18 to take possession of vehicle. Winner is responsible for sales tax, title, insurance, and any other applicable fees on the vehicle. Void where prohibited. Prize must be claimed on or before May 31, 2019. Proceeds from ticket sales are tax deductible contribution and benefit Foothill High School's Athletics Programs.
---
June 14, 2018
The Winner of Redding Kia's "CASH FOR CLASSROOMS" contest - Nicole Burroughs, Antelope Elementary, Red Bluff, CA


Recently Redding Kia held a contest for the public to vote for their favorite teacher for "CASH FOR CLASSROOMS". The winning teacher would win a check for $500.00 to go towards classroom supplies for their home room. and as promised, we are posting the video with our "CASH FOR CLASSROOMS" winner, Nicole Burroughs of Antelope Elementary School in Red Bluff, California. The video is part phone interview and part video capture of Redding Kia's owner Jeremy Cunningham presenting Nicole with her winning check for $500.00!

THE WINNER OF CENTRAL VALLEY HIGH SCHOOL'S KIA OPTIMA RAFFLE: CONGRATS TO ELIZABETH WALLACE OF REDDING, CA!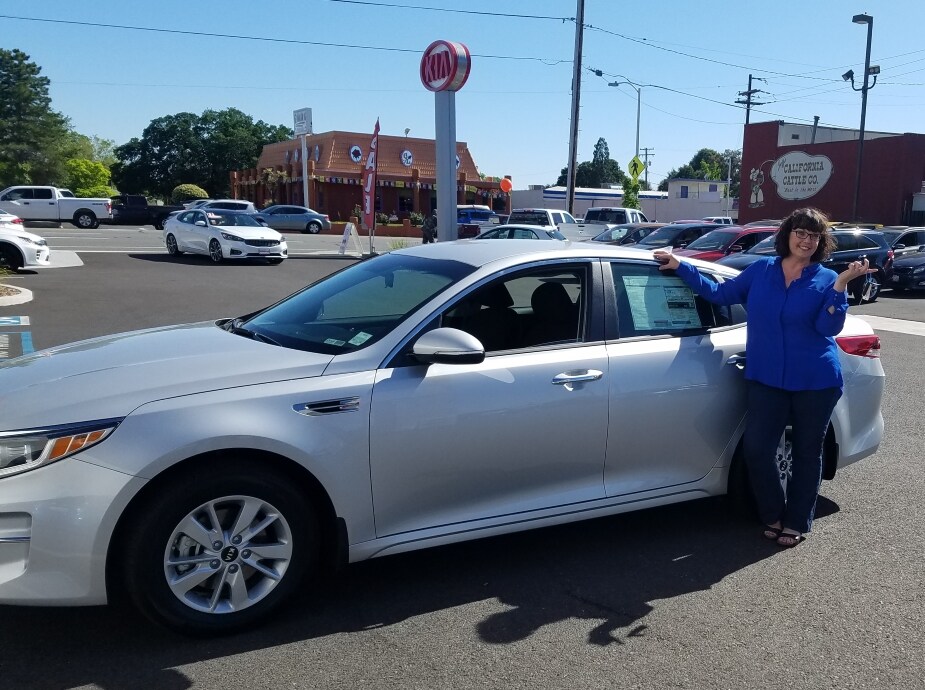 On May 5, 2018, Central Valley High School drew Ms. Wallace's name as the winner at the end of the 8-month raffle! Redding Kia called Ms. Wallace on May 7, 2018 to inform her of the good news! She was at our store later that afternoon, with all smiles!
Redding Kia and Central Valley High School in Shasta Lake, CA wish to thank all who participated in the raffle- your donations went to a very worthwhile cause!

---
November 8, 2017
REDDING KIA GIVING BACK TO THE COMMUNITY: 
Central Valley High School - Shasta Lake, CA 


On September 7, 2017, Redding Kia gave a brand new 2017 Kia Optima to Central Valley High, in Shasta Lake, California. This vehicle was donated with no strings attached, and was raffled off on May 5, 2018 for efforts to earn money for their athletic programs. Watch the video for more!
Hours
Monday

7:30 AM-6:00 PM

Tuesday

7:30 AM-6:00 PM

Wednesday

7:30 AM-6:00 PM

Thursday

7:30 AM-6:00 PM

Friday

7:30 AM-6:00 PM

Saturday

8:30 AM-6:00 PM

Sunday

Closed
Make an Inquiry