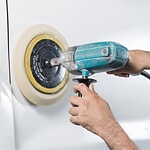 Waxing your car takes a lot of elbow grease. It can be a tiresome job. Some people may think car wax isn't necessary, but we here at Redding Kia truly believe the benefits it offers are worth the investment. Keep reading to learn why.
Car wax actually adds a great deal of protection to your vehicle. Things like rain, dust, dirt, salt, and even the sun can be incredibly damaging to your car's body. Fading and rust can lower the resale value and add expensive repair costs. Adding a coat of wax just a few times per year can increase your vehicle's life.
The ingredients in car wax are what provides protection. Natural waxes like carnauba, beeswax, and palm are often found in wax products. There are also synthetic waxes containing silicones and plastics. It's up to you which kind you choose.