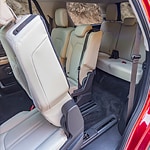 If you want to purchase a vehicle soon, there are many good reasons to choose an SUV! Stop by and check out all your options, from great tech to high towing capabilities! At Redding Kia in Redding, CA, we have many SUVs in our inventory for you to see in person.
The entertainment options in an SUV are great and come with large touchscreens, connectivity, and many safety technology options. Some SUVs come with blind-spot alerts, while others have great driver-assist technologies like parking assist.
When you leave town, consider an SUV that easily tows a trailer loaded with gear or a camping trailer. No matter what you tow, there are plenty of SUVs that have high towing capabilities so that you can take along the items you want. Also, considering an SUV with 4WD is a great way to maximize the handling features of your vehicle.